Forever in my heart my Queen, my incompareable Yamena.
Yamena 6/4 2000 - 3/6 2016
The emptiness, the pain, the frustration - We are chocked.


The dream to own a daughter by the legendary stallion Menes is now fulfilled.
Yamena is one of the last offsprings by Menes, born in 2000.
In Yamena we see an invaluable and unique broodmare who is out of the finest Old Russian bloodlines.
Menes is one of the most important and world wide well known stallions in the Arabian horse history ever. His offsprings are successful in both performance and showing all over the world.
Yamena is out of Yamaika, and her mother Yakouta II was one of Forelock's Arabian's foundation mares. Yamaika's sire Nizjni was a splendid dressage stallion and he has many offsprings successful in endurance, the most well-known is Salomon Djinti competing in European and World championships.
Nizjni's sire Mir is also half-brother to Menes through Metropolia.
Yamena is well ridden and she is a super riding horse, -she was bought from dressagerider and trainer Aurid Muskee.
We look forward to using Yamena in our breedingprogram, it is such a big pleasure for us to be able to carry some of the best and most classic Russian bloodlines on.
Yamena has a unique pedigree and beside that she is a thrilling mare with a beautiful chestnut colour and a great charm with lot of Russian power. She has a loving mind and a great temper.
She measure 1.57cm and she moves with breathtaking steps and attitude.
We are very pleased to have been able to buy Yamena in 2009, and she will always have a special place in our hearts with the joy and happiness she bring us every day, and she will always be a part of our breedingprogram.


The legacy of Yamena: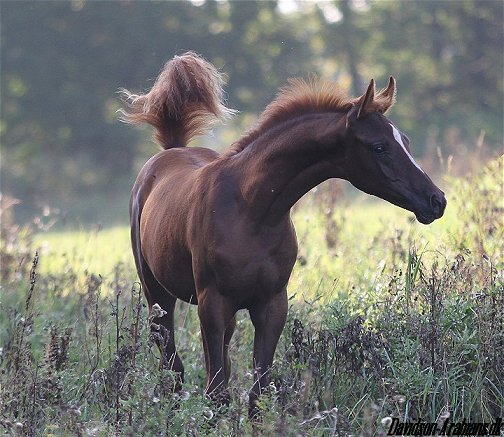 Yuniq Bint Yamena, born 2016 sired by SL Carrera by Kubinec