1992 - 2016 forever in our hearts.

With Senada we have add a whole new colour to our stud.
Senada arrived at our stud on a cold February day and she is truly a great Snow Queen all dressed in white.

Born in 1992, Senada is an older mare, but she hides her age very well and leads forward with attitude and power of movements and is in a good shape and health . She is an extremely gentle and friendly mare who is a pleasure to work with on a daily basis.
In her younger days she was an excellent riding horse and has been ridden in dressage and in terrain with previous owner.
Senada has an interesting pedigree with some old Russian bloodlines through the Elite stallion Neman bred at Tersk Stud and also the Tersk mare Kura by Aswan, which has previously been broodmare at Egholm Arabians and later on exported to Brazil.
Also the stallion Tern was bred at Tersk Stud.

Senada's dam Senet has been an excellent broodmare and very productive with 14 ox offspring. She has produced several successful offspring, which include the endurance horse Mon Ami Naverro, who has completed several 120km and 160km classes and completed 2 x World Championship with both a Young Rider and as Senior.
The stallion Serebro who is also a endurance horse at a high level, won in 2008 silvermedalj at Danish Championship and has completed several 120km classes including Nordic Championship. Serebro are also ridden in dressage and jumping with good results. The mare Indian Lupin from 1993 was an extremely well moving dressage horse with dressage classes at MB level.
Also the endurance horse Serij from 2003, has completed 120km classes and was No 3 in his first 160km ride. Serij completed the 160km ride at the FEI World Endurance Championship 2012 in UK, as the second best placed Danish horse.

We hope that Senada could add one or two offspring to our breeding program before she must retire.
She has previously delivered 4 offspring; 1 stallion and 3 mares and we hope she will be here to enjoy motherhood once again.
Offspring 2013: AŽdelay Ibn Senada by Azem (Symba x Manuela/Amadeusz)
Offspring 2014: Serengeti by SL Carrera (Kubinec x Salaa Diva/Salaa El Dine)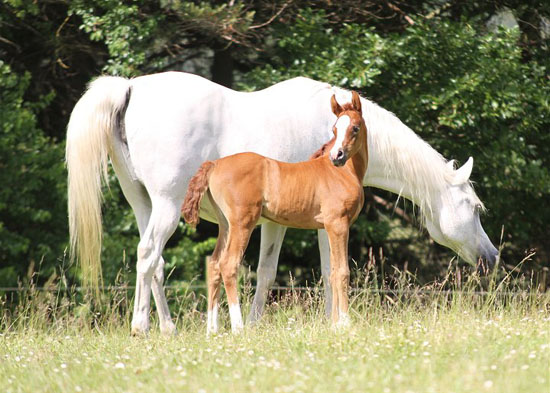 Senada and Serengeti June 2014