Maylee Moniet truly is a little angel. Incredibly feminine mare with a stunning look and an extremely elegant appearance.
She possess a lovely personality and have a great deal of confidence, even at a very young age.

Maylee is out of mainly Russian bloodlines with the Kubinec son SL Carrera as her sire and our Karnaval daughter KH Merlina as her dam.

SL Carrera is an extremely well ridden stallion with excellent performance testing results, a stallion with a great performance potential, a stallion where size, type and quality are strongly united.
SL Carrera's pedigree contains only recognized and successful Russian and Egyptian lines.

Maylee's mother KH Merlina is sister of the danish endurance stallion Makao, who is also licensed in DSP, - through their Sire; The Champion stallion Karnaval.
The Tersk bred Karnaval was leased to The Kossack Stud in Holland for some years, and during this period he was the most used stallion in Holland, and he has contributed with many good performance offspring, especially at the rascetracks.
Karnaval's dam Karinka was herself an active racehorse and quickly became a valuable broodmare at Tersk Stud in Russia, with offspring as Kosmonaut and Drug.
In Merlina's pedigree you find names such as the European Champion stallion Top, Elite mare Trapecia and Elite mare Taktika.
A pedigree that combines the best of the old Russian lines, with a portion of Crabbet and a drop of Polish blood. Bloodlines we at our stud, is proud to carry on inside Denmark.

The combination of SL Carrera and KH Merlina has been a success.
We are very pleased with the result and we look forward to follow Maylee over the years and watch her grow and develop.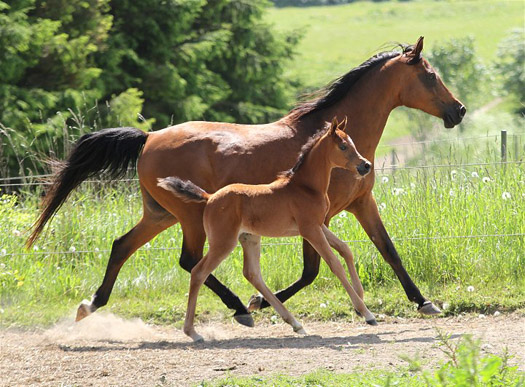 KH Merlina and Maylee Moniet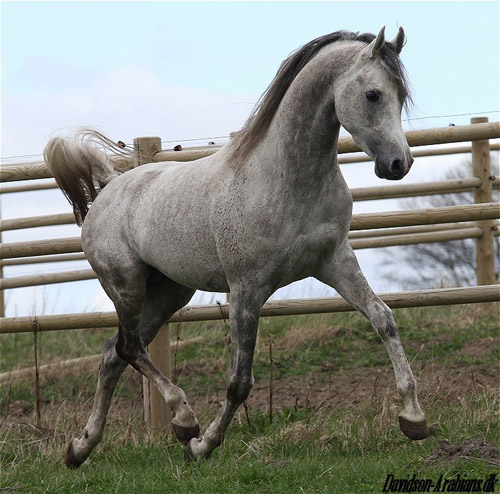 SL Carrera