It is with great pleasure we present a daughter of the Russian Champion and Elite stallion; KAIS by Pakistan out of Proba / Balaton, on Danish ground.
4D Malayka Moniet is everything we believe a broodmare should have: A beautiful appearance, a loving gentle mind and a very interesting and unique pedigree.
Malayka is breed in The Netherlands at 4D Arabians, and is out of Russian and Egyptian bloodlines.
She is a stunning and expressive mare with a nice typed face, a good strong body and great movements.
Her lovely black mother JM Maliah has several black bloodlines in her pedigree and JM Maliah is by the black Elite stallion Faa El Sharik, who himself is a successful Endurance stallion as well as he is the Sire of many performance horses.
Besides being a fantastic example of the Arabian horse in looks and manner Malayka also contains proven performance blood, and as a future broodmare at Skovsted OX she has a lot to offer- we are very excited about her future.
We are so happy and content with our purchase of Malayka as a yearling in 2008, and she has been everything we ever hoped for and dreamt of.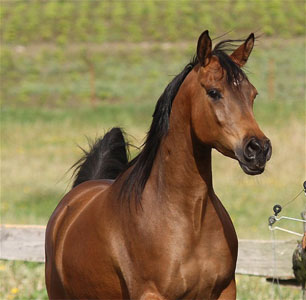 Malayka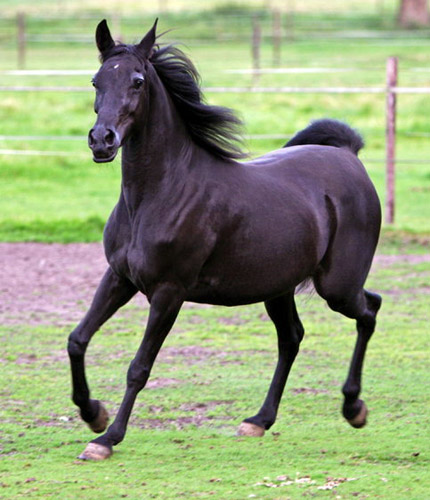 JM Maliah, the dam of Malayka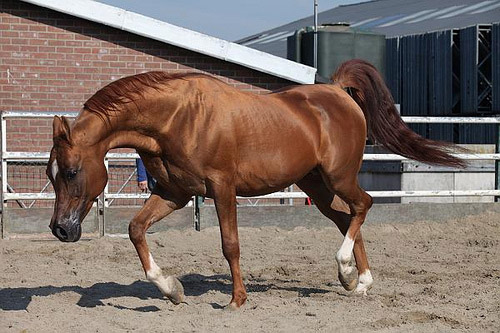 Kais, the sire of Malayka