Fairytale by Duval is a real magic princess with a beauty and elegance without any match.
Fairytale is a combination of the ancient Russian bloodlines through the russian stallion Duval by Vympel x Derjava / Aswan, and out of the Essteem granddaughter Felima by LM Fellini, who is of much more modern Arabian type. LM Fellini is an successful showhorse with great results like Int.Junior Champion and Worldchampionship TopTen. Today he is ridden in Dressage.
Fairytale's mother Felima was leased from Pia Korsgaard from 2009 until '10, and in this period this stunning mare has given us so much more that we could ever hope for: A good looking and well shaped filly with nice temper and a big charisma. Felima is bred at Tengstedt Arabians DK, and is out of one of this stud must valuable breedingmares Bint Bint El Masra who is sired by Masran El Shaklan. Felimas fullbrother Flini is an fantastic endurance horse with many victories- he became Danish Champion 2012 and he also participated in the World Endurance Championship 2012 in UK where he was placed as the best Danish horse in the field,
Fairytales Sire Duval has gained the KEUR status in the Dutch Studbook. He was the leading Sire at The Monpelou Stud in NL and is bred at Tersk Stud in Russia in 1990.
Fairytale has inherited the best from both her parents and she is a unique sweet filly with all opportunities for a great future.
She is the combination of some of the most valuable old bloodlines and newer bloodlines,-and the result is a very correct filly that carries herself with royalty and an unbelievable show-off attitude.
Fairytale is a filly with a great potential and we are very pleased with the combination of these exciting bloodlines and find the result so much more than we ever dreamt off.
We are looking forward to follow Fairytale by Duval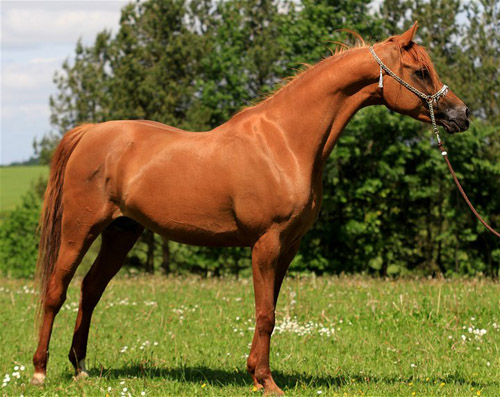 Felima, the dam of Fairytale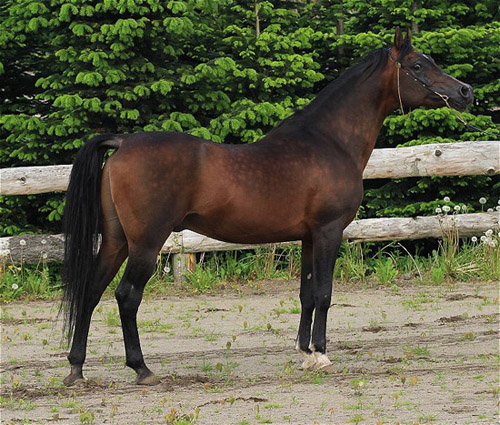 Duval, the sire of Fairytale