May we present; Cheetah by Duval.
Our little charming new addition to the family, out of Cheyenne and by the Russian stallion Duval (Vympel x Derjava / Aswan).
Cheetah is born with the largest courage and a heart of gold.
She possess the most fearless and curious mind to imagine, and genera clearly her siblings on what temperament is concerned.
She is mostly out of Russian lines, but has also added a touch of English and Egyptian blood from her Dam.
Cheetah has without any doubt inherited her beautiful colour and markings, from her grandmother Chantel whose Sire was the Russian stallion Nekro, -she had similar colour and paint to offer, so no doubt that Cheetah and she is close relative, and Chantel significantly leaves her legacy here at the stud. Chantel were also the dam of our former breeding and gold medal mare: Aziza Xalina which we lost so tragically in 2005, so we are delighted that we now have little Cheetah wich may continue what we never achieved with Aziza Xalina.

Cheetah is the last offspring out of Cheyenne here at Skovsted OX, and with this beautiful filly Cheyenne has really put a nice end to her time here at the stud.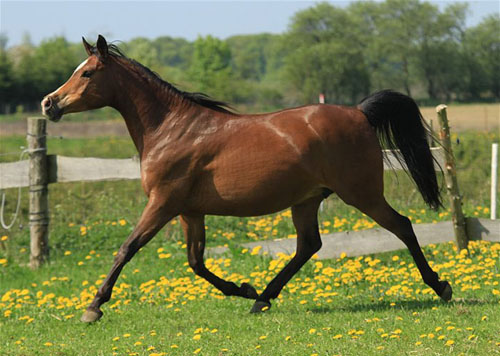 Cheyenne, the dam of Cheetah

Duval, the sire of Cheetah