We have been honored with another black pearl,- and we welcome A'Ameen, our first 2-generation offspring by Azem and therefore very special for us.

A'Ameen is out of A'Sweet Surprize, our homozygous black daughter sired by Azem (Symba/Vympel x Manuela/Amadeusz), and with this offspring she has started her career as a broodmare.

A unique offspring with great drive and ability to charm everyone with her gracious and intelligent mind .

A'Ameen have very early teamed up with our lead mare Yamena, and with her by her side, A'Ameen has already achieved to get a high status in the ranking, despite her young age.

She is a strong-willed young lady who enjoys getting attention and take everything with a healthy and easy manageable attitude and she is a pleasure to work with.

A'Ameen is sired by the Russian KEUR stallion Duval (Vympel x Derjava/Aswan) and our daughter number three sired by this lovely stallion.

In Duval, we see a unique opportunity to carry on some of the old Russian bloodlines which we value highly, and in combination with A'Sweet Surprize, we have also been fortunate enough to continue breeding the beautiful black color which is probably inherited from Vympel (Menes x Molva/Aswan), which occurs both on dam and sire's pedigree.

A'Ameen is mostly out of Russian bloodlines.

We are extremely pleased with the result of this combination and expect that A'Ameen will be a good choice for a future sportsarabian.

Our wish is that one day, she will find a 10 * new home, who will focus on preformance and where the desire is a unique eye-catching Arab with qualities to go far.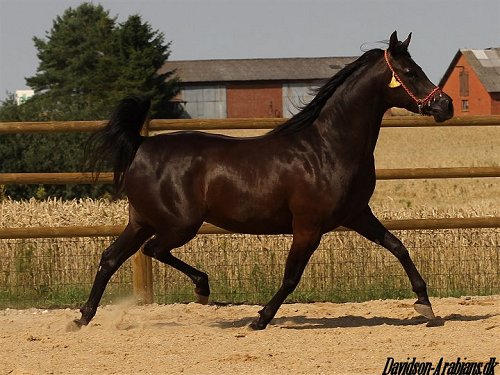 AŽAmeenŽs dam AŽSweet Surprize by Azem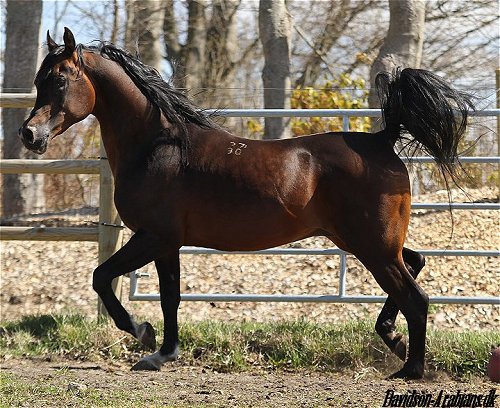 AŽAmeenŽs sire Duval (Vympel x Derjave/Aswan)