By Azem and out of Cheyenne, we introduce our black homozygous mare; A'Sweet Surprize.
She is colour tested aa-EE.
Her nickname is Little My, and she is an unbelievable charming and precious mare with a cheerful spirit and a cool and kind temper. She is very easy to handle.
A'Sweet Surprize has big smooth movements and she loves to show herself.
She is an harmonic and well shaped mare, with a feminine and nice type, and a good strong body. She has inherited her sire's Azem, gentle and calm expression and her dam Cheyenne's sweet character.
We unfortunately had to realize, that an old injury in one of her hind legs, makes a riding career impossible but beside that, she has until now, fulfilled everything we had hoped for.
She is mostly out of russian lines, but is a mix of bloodlines, and has all the best of both polish/english and a hint of egyptian in her pedigree.
We are looking so much forward to follow her from being a young filly, growing into an adult mare and become a broodmare at our stud.
We expect that A'Sweet Surprize will be a good black producer, and she will be the one to carry on the bloodlines from Azem at Skovsted OX.

Afkom 2015: AŽAmeen by Duval (Vympel x Derjava/Aswan)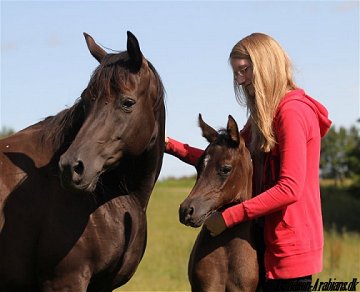 Dana with A'Sweet Surprize and AŽAmeen July 2015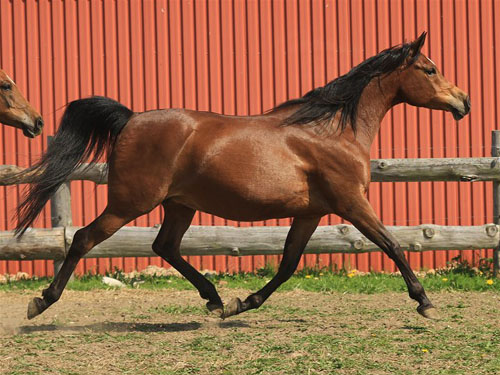 A'Sweet Surprize's Dam Cheyenne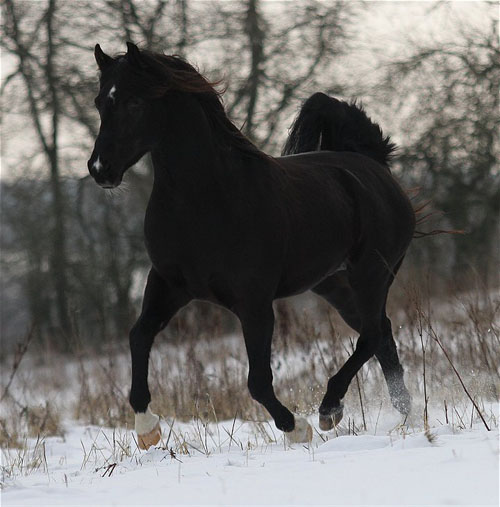 A'Sweet Surprize's Sire Azem